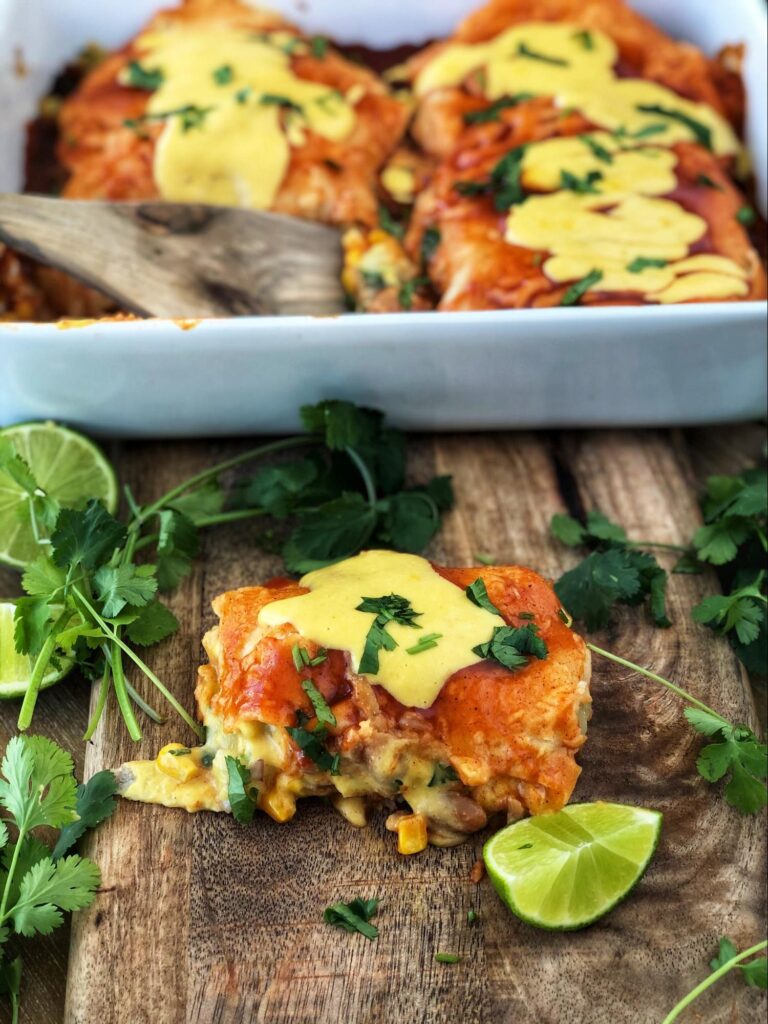 Ingredients:
4 medium to large potatoes that have already been baked or steamed

2 tbsp lime juice

1 tsp garlic powder

½ cup diced onion 

1 cup of corn

1 cup chopped cilantro

15 oz can of beans on your choice, drained and rinsed

Salt and pepper to taste

18 corn tortillas

1 batch cheese sauce (

the-yummiest-cheese-sauce-ever

)

3-4 cups red enchilada sauce, store bought (oil free) or homemade
Instructions:
Preheat the oven to 400 F. Place potatoes in a large bowl and coarsely mash. Add the lime juice, garlic powder, onion, corn, cilantro, and beans. Mix well. In a 9x13 pan spread some of the enchilada sauce to coat the bottom. Layer the bottom of the pan with 6 corn tortillas, spoon filling on top of each tortilla.  Pour some enchilada sauce over the mixture and spoon some cheese sauce on as well if using. Add another layer of corn tortillas and repeat the process until you run out of ingredients ending with a top layer of tortillas. Pour the remaining cup of enchilada sauce over the top and cover the pan with foil or a lid. Bake for 35-40 minutes.Once done, uncover and add some additional cheese sauce or enchilada sauce and garnish with cilantro.
Servings:
Makes 10-12 Servings.