Weight Loss Friendly Blueberry Pancakes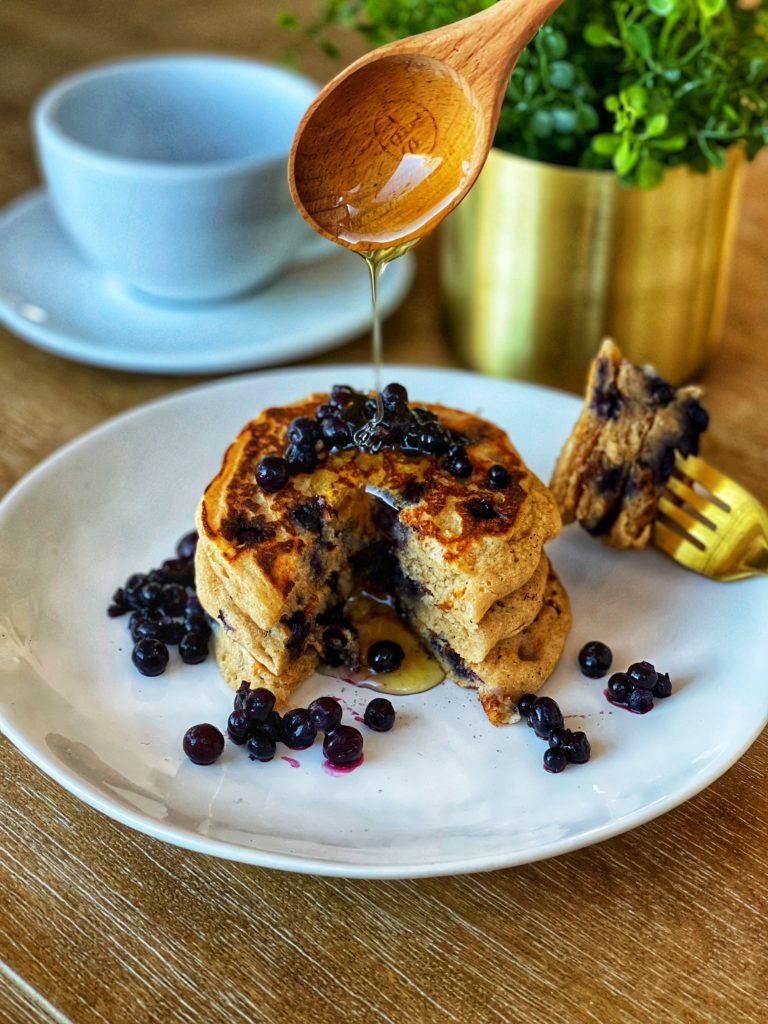 Ingredients:
1 ¼ cup whole wheat flour (or gluten free flour, or oat flour)

2 tbsp unrefined sugar (may use coconut sugar, maple syrup, or leave out)

2 tsp baking powder

½ tsp salt

2 tbsp applesauce (unsweetened)

1 tsp vanilla extract

1 ¼ cups water

¼ - ½ cups blueberries (fresh or frozen)
Instructions:
Heat a nonstick griddle or pan over medium high heat.  In a medium sized mixing bowl mix all the dry ingredients then add the apple sauce, vanilla, and water, and stir until combined.  At this point you may fold in the blueberries.  Lightly spray pan if needed to avoid sticking, then using a ¼ cup measuring cup, scoop the batter and pour onto the hot griddle, using ¼ cup of batter for each pancake.  Cook for 2 minutes or until starting to brown then flip over and cook for an additional 2 minutes.  Enjoy with more blueberries over the top and you may also add 1 tbsp maple syrup.
Servings:
Makes 10-11 pancakes.
*6 pancakes with 1 tbsp maple syrup contains:
 392 cal
 10.8 grams protein
 79.9 grams carbohydrates
 2.1 grams fat