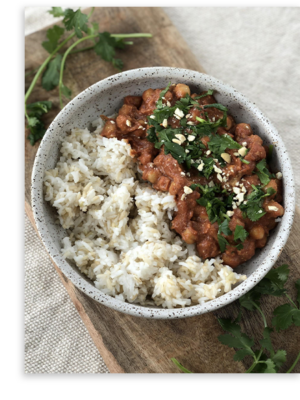 Ingredients:
2- 25oz cans chickpeas drained and rinsed

1- 28 oz can tomato puree

½  medium onion 

2 tsp grated ginger or ginger paste (1 tsp ginger powder)

3 garlic cloves

3 tsp Rani Chana Masala 

1 tsp yellow curry

1 tsp ground coriander

¼  tsp mango powder

⅛  tsp cumin seeds

⅛  tsp Hing powder (Asafoetida)

½ - ¾  cup plant milk (I like plain unsweetened soy milk)

¼ cup ground cashews (optional) for a deliciously creamy taste

1 tbsp lime juice 

½ cup chopped cilantro (optional)
Instructions: 
In a blender, mix tomato puree, onion, garlic and ginger. Heat pot on medium high    and add cumin seeds, allow them to brown for 1-2 minutes.  Pour blended tomato mixture and the remaining spices into the pot. Allow to cook down for 15 minutes, stirring occasionally. You want to end up with more of a tomato paste than sauce, this allows time for the spices to cook and develop excellent flavor.
After approximately 15 minutes, add the chickpeas, plant milk, cashews if using, and lime, stir to mix. Allow the chickpeas to heat through then turn off heat and mix in chopped cilantro. Serve with steamed rice and garlic naan.  (recipe in bread section)