Gluten Free Asian Pan Noodles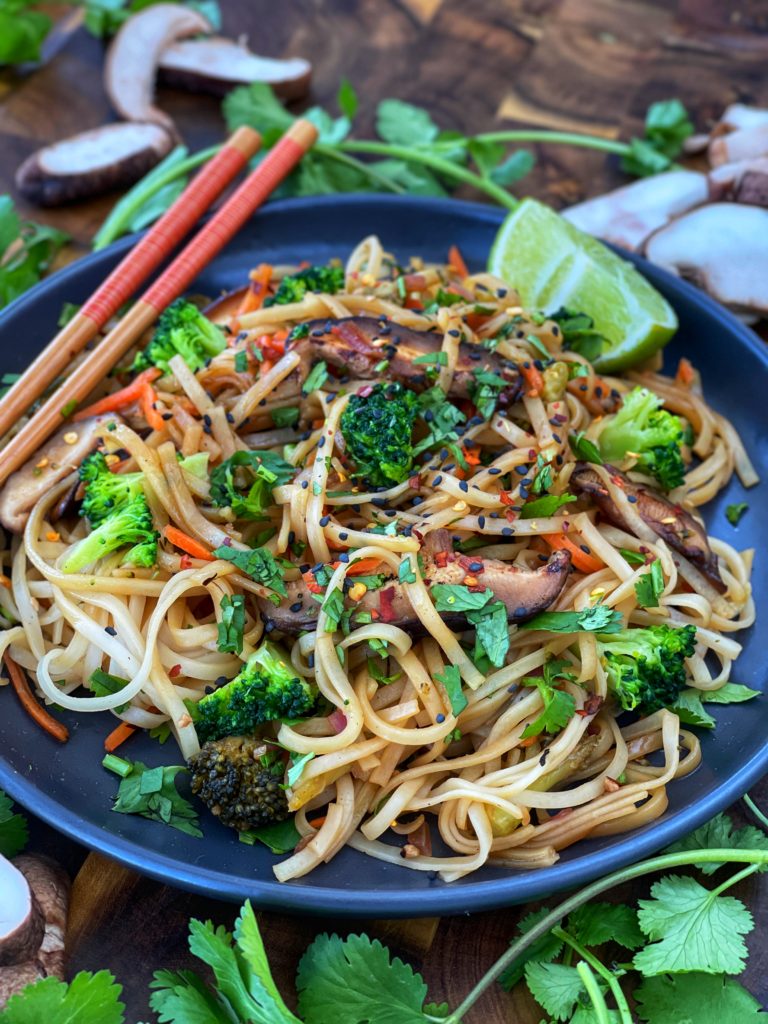 Ingredients:
1- 8 oz box GF Pad Thai Rice Noodles

5 oz shiitake mushrooms

¼ cup minced onion

1 tsp minced garlic

½ cup shredded carrot

1 ½ cups steamed chopped broccoli 
Sauce:
¼ cup GF low sodium soy sauce

¼ cup seasoned rice vinegar

2-3 tbsp maple syrup

Garnish:

Cilantro 

Lime

Chili flakes

Black sesame seeds
Instructions:
Fill a pot with water and bring to a boil, cook the noodles according to package directions.  While the noodles cook, heat a pan over medium high heat and add the mushrooms, onions, and garlic along with ¼ cup of water and saute them until the mushrooms and onion soften and begin to brown. 
While the mushrooms and onions cook down, add the soy sauce, rice vinegar, and maple syrup to a small bowl. Drain and rinse the noodles and set aside.  Once the mushrooms and onions are done cooking, keep the heat on and add the sauce, carrots, broccoli and noodles to the pan, stir to mix and allow it to cook for another minute or two but don't allow the sauce to dry out.
Once done garnish with lime, cilantro, chili flakes, and black sesame seeds. Serve immediately and enjoy!
Servings:
Makes 3 servings.