Dairy Free Fettuccine Alfredo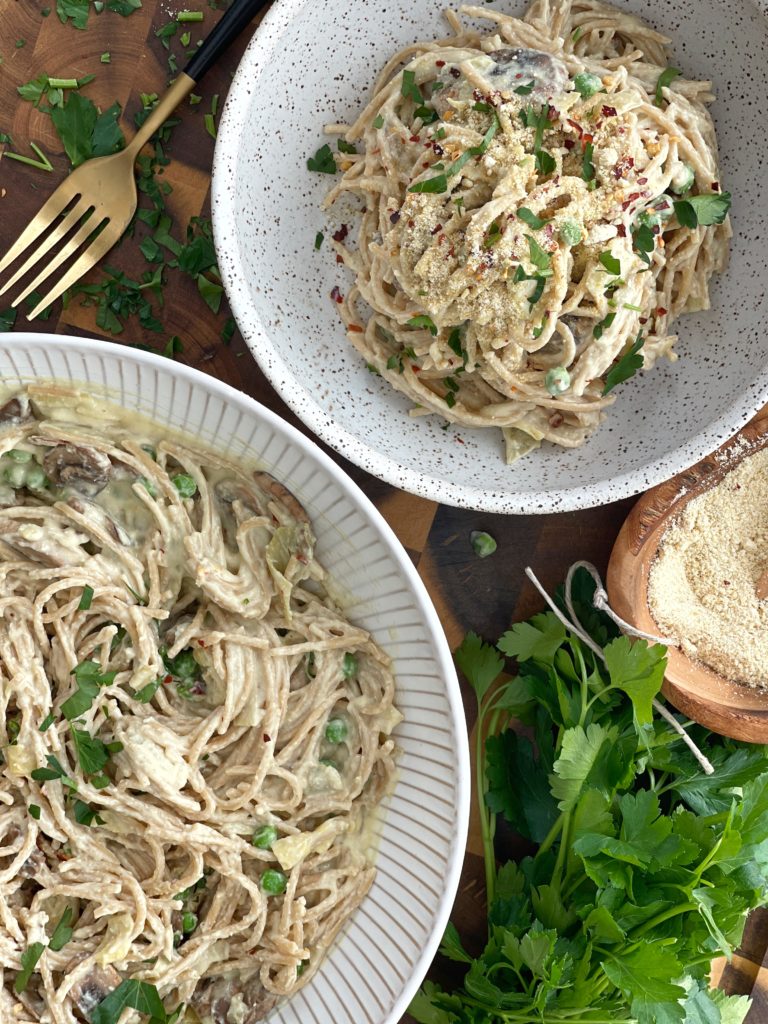 Ingredients:
1- 12 oz package pasta of your choice

1-2 cups canned artichoke hearts, drained, rinsed, and chopped

½ cup of peas

8 oz of sliced mushrooms (I like baby bella)

Spinach (optional)

3-4 cups dairy free alfredo sauce 

1 tsp chili flakes (optional)

Garlic salt to taste

Pepper to taste

Chopped parsley for garnish
Instructions:
Cook pasta according to package directions. Heat a nonstick pan over medium high heat and place the sliced mushrooms in the pan.  Sprinkle with garlic salt and add a few tablespoons of water to help the mushrooms cook down.  
While the pasta and mushrooms cook, drain and rinse the artichokes then chop.  If using frozen peas, place in a strainer and run under hot water until thawed, and set aside. 
In a medium saucepan heat the alfredo sauce if it is not already hot. Stir constantly so it doesn't burn on the bottom.  Once the pasta is done cooking, drain and add to a large bowl. 
Add the mushrooms, artichoke, peas, and spinach if using.  Then add the sauce and mix well.  Season with garlic salt, pepper, and chili flakes, then garnish with fresh parsley.
Servings:
Makes 6 servings.