Sweet Potato and Quinoa Salad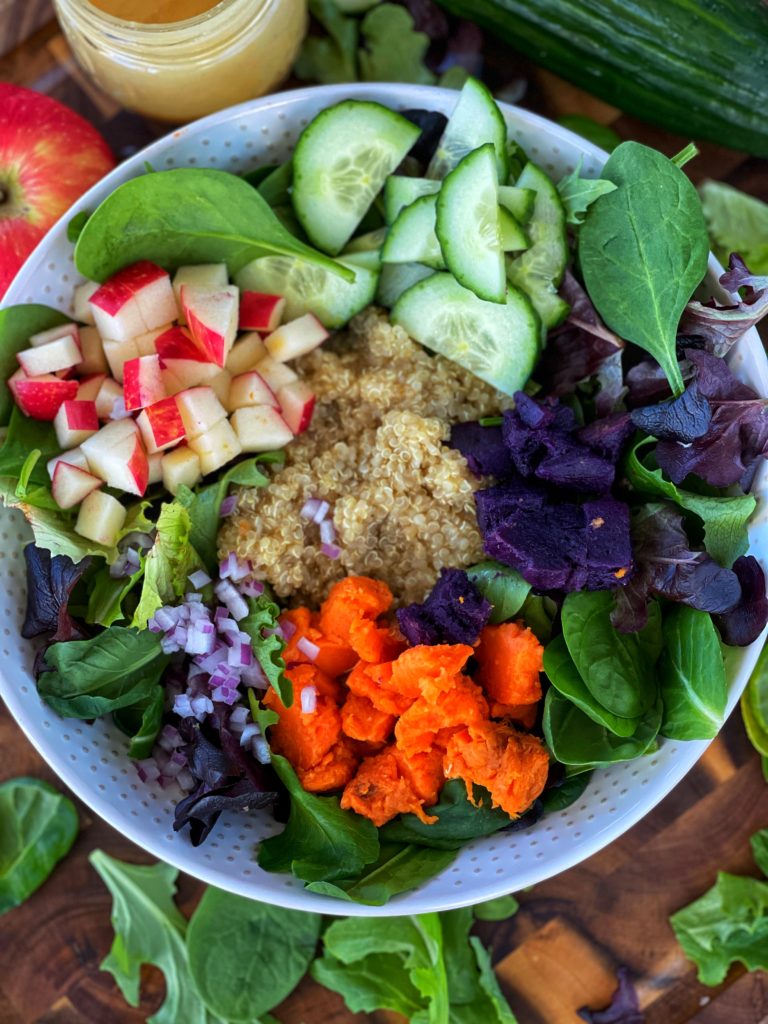 Ingredients:
4 cups spring greens

1 cup cooked sweet potato

½ cup cooked quinoa (cooked according to package directions)

½ cup (or more) sliced cucumber

½ cup minced red onion

½ honey crisp apple diced

Dressing:

2 tbsp oil free hummus

1 tbsp dijon mustard

¼ peach balsamic vinegar (Use discount code PLANTIFULKIKI for 10% off @ Rocky Mountain Olive Oil

 )
Option 2 Dressing:
2 tbsp maple syrup

2 tbsp Dijon mustard
Instructions:
Place sweet pierced sweet potato in the oven at 425 for 30 minutes.Cook the quinoa according to package directions (I like to add 1 tsp of vegetable bouillon to the water to flavor the quinoa.) Place salad ingredients in a bowl. In a separate bowl or small jar with a lid, place desired dressing ingredients and stir / shake to mix. Once the sweet potatoes are done and cooled enough to peel, dice and add to the salad. Once the quinoa is done and slightly cooled, add to the salad.  Dress salad and toss to coat.
Servings:
Makes 1-2 servings.