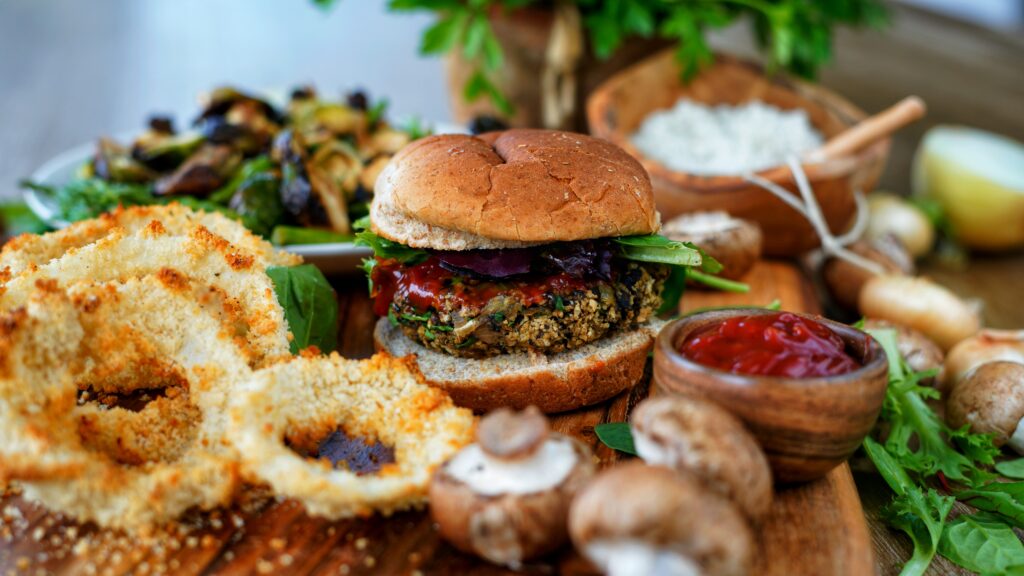 Ingredients:
 1 lb mushrooms finely chopped

½ cup or 1 small onion diced

2-3 garlic cloves minced

1 tsp garlic powder

2 tsp vegan worcester sauce

¼ cup nutritional yeast

½ cup instant oatmeal

½ cup bread crumbs (can use gluten free)

¼ cup finely chopped parsley

2 tbsp powdered vegan egg replacer or ground flaxseed 

s

alt and pepper to taste (I like garlic salt)
Instructions:
In a pan on medium high heat, sauté the mushrooms and onions with worcester sauce and a little water until they start to brown. Once done transfer mushroom and onion mixture to a bowl and add the rest of the ingredients. Mix thoroughly and cover, then place in the refrigerator for at least 4 hours. I find that overnight is best. Preheat the oven to 425°. After 4 hrs or overnight take the mixture and form 3 hamburger size patties. Bake them for 10-15 minutes or you can brown them on a nonstick pan (you might have to lightly spray it if it sticks.) 
Servings:
Makes 3 Patties.
Get this recipe and more of my plant-based recipes in my Plantifully Lean Cook Book