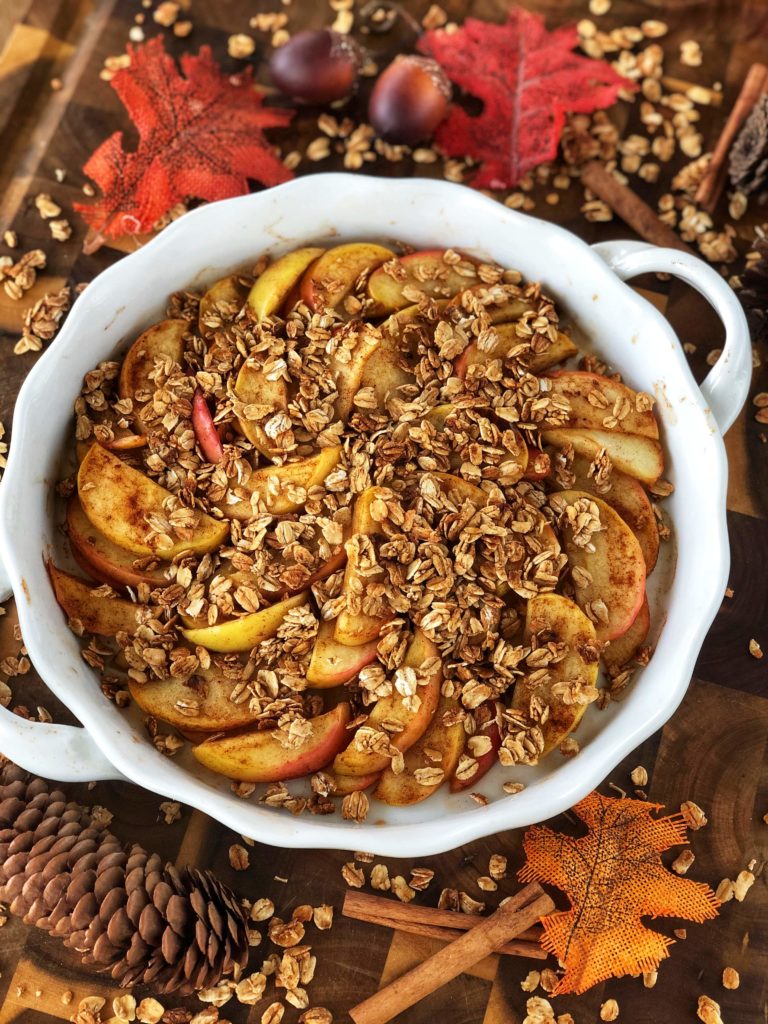 Ingredients:
1 cup rolled oats

3 tbsp maple syrup

¼ tsp cinnamon

2 honey crisp apples sliced

½ lemon squeezed

½ tsp apple pie spice
Instructions:
Preheat the oven to 400.  In a bowl mix the rolled oats, cinnamon, and 1 tbsp maple syrup.  Spread oat mixture out on a parchment lined baking sheet, and bake in the oven for 10 minutes, watch carefully so they don't burn. Once done remove from the oven and allow to cool.
Slice the apples and place them into a bowl.  Add the remaining 2 tbsp of maple syrup and lemon juice and mix to coat.  Then season with the apple pie spice and toss to coat well.
Place the apple slices in a pie dish and arrange them into whatever pattern you enjoy. Place in the oven and bake for 10-15 minutes.  
Once the apples are done baking, remove from the oven and top with oat mixture.  
*This is a simple and healthy apple crisp that you can enjoy by itself or with a little vegan ice cream.
Servings:
Makes 6-8 servings.
For more of my plant-based recipes check out my cookbook: Plantifully Lean Cook Book
Check out this recipe on my Youtube Channel: Easy Thanksgiving Desserts