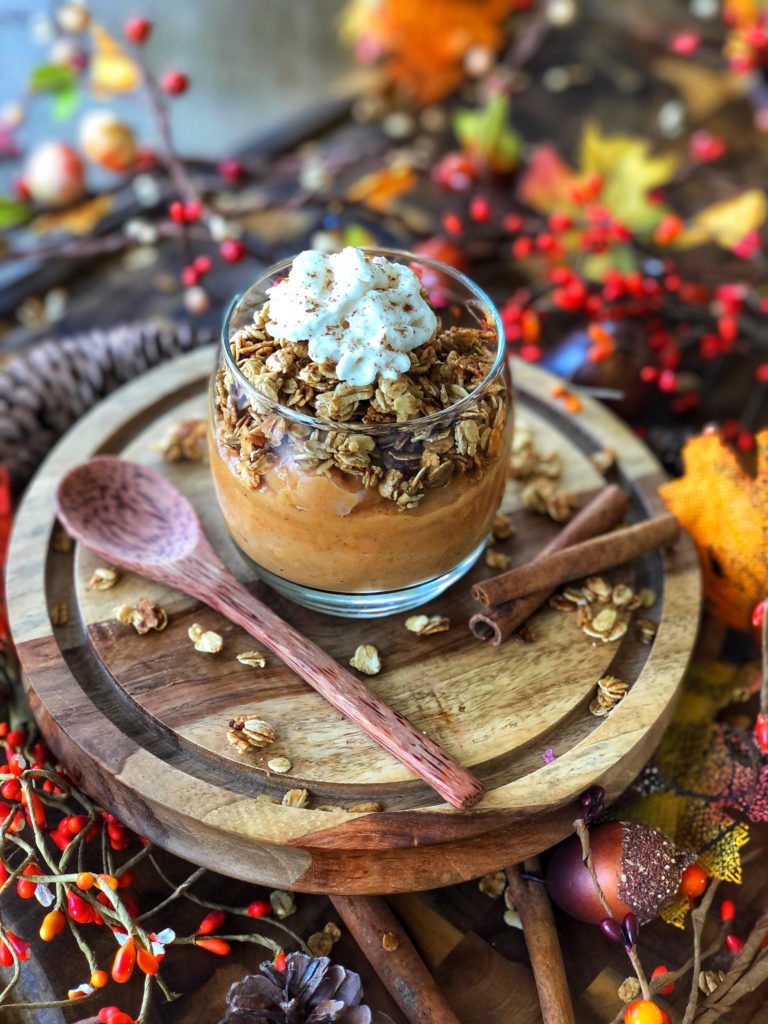 Ingredients:
1 package vegan vanilla pudding made according to package directions

1 cup pureed canned pumpkin

1 tsp pumpkin pie spice

3-4 drops french vanilla stevia (see amazon pg) or use maple syrup to sweeten

Canned Almond milk whipped cream 

2 cups rolled oats

2-3 tbsp maple syrup

½ tsp cinnamon
Instructions:
Prepare pudding according to package directions and place it in the refrigerator to set up.
Preheat the oven to 400.  In a bowl mix the rolled oats, cinnamon, and maple syrup.  Spread oat mixture out on a parchment lined baking sheet, and bake in the oven for 10-15 minutes, watch carefully so they don't burn. Once done remove from the oven and allow to cool.
Once pudding is set, about 20-30 minutes, mix in the pumpkin puree, pumpkin pie spice, and stevia or maple syrup to taste to sweeten it. Then spoon into cups and top with a layer of the crispy oat mixture and then top with whipped cream.
Servings:  
Makes 4-6 servings depending on the size of the cups used.
For more of my plant-based recipes check out my cookbook: Plantifully Lean Cook Book
Check out this recipe on my Youtube Channel: Easy Thanksgiving Desserts