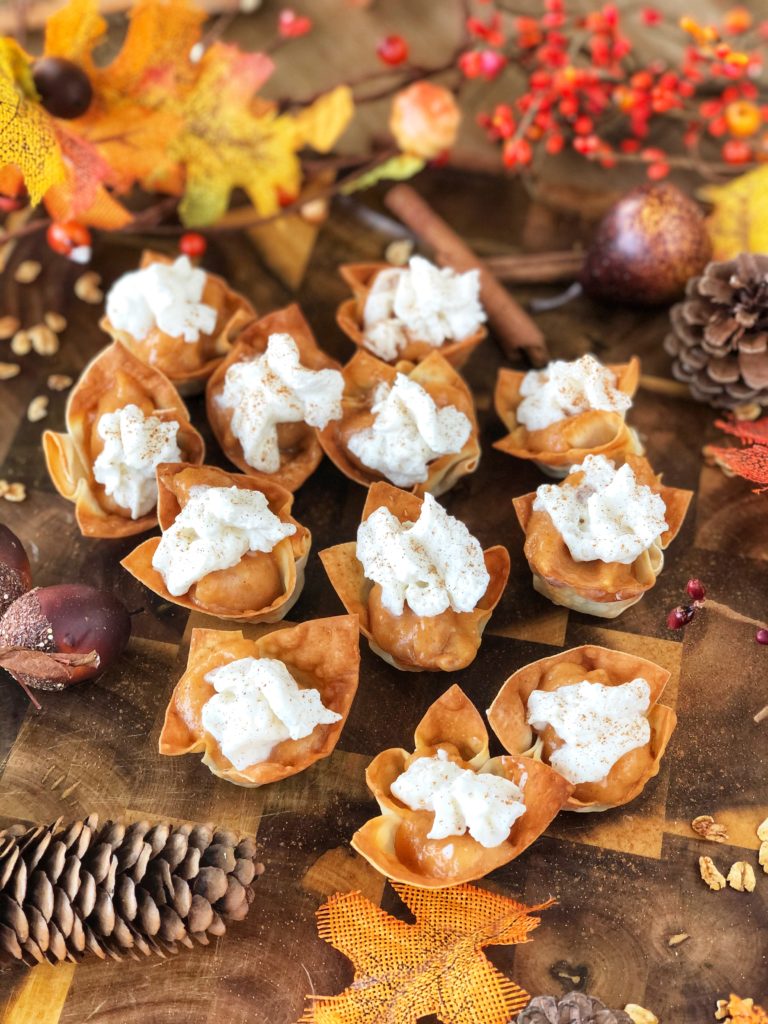 Ingredients:
1 package vegan vanilla pudding made according to package directions

1 cup pureed canned pumpkin

1 tsp pumpkin pie spice

3-4 drops french vanilla stevia (see amazon pg) or use maple syrup to sweeten

3 vegan egg roll wrappers

Canned Almond milk whipped cream (optional)
Instructions:
Preheat oven to 400 and prepare vanilla pudding according to package directions and allow it to set up in the refrigerator. 
Once the pudding is set then mix in the pureed pumpkin, pumpkin pie spice, and sweeten either with stevia or maple syrup to taste, and place back in the refrigerator.
Stack the 3 three egg roll wrappers and cut into 4 equal squares with a knife or pizza cutter.  Then place each square in a mini muffin pan to make little pie crusts. Then lightly spray with oil (optional) to brown the crusts. And bake in the oven for 10 minutes.
Allow crusts to cool completely once they are done baking.  Then fill each crust with the pumpkin pie filling. Top each pumpkin pie bite with a little whipped cream once ready to serve. Enjoy!
*Use the remainder of the pumpkin pudding to make these yummy Pumpkin Pie Parfait
Servings:
Makes 12 servings.
For more of my plant-based recipes check out my cookbook: Plantifully Lean Cook Book
Check out this recipe on my Youtube Channel: Easy Thanksgiving Desserts