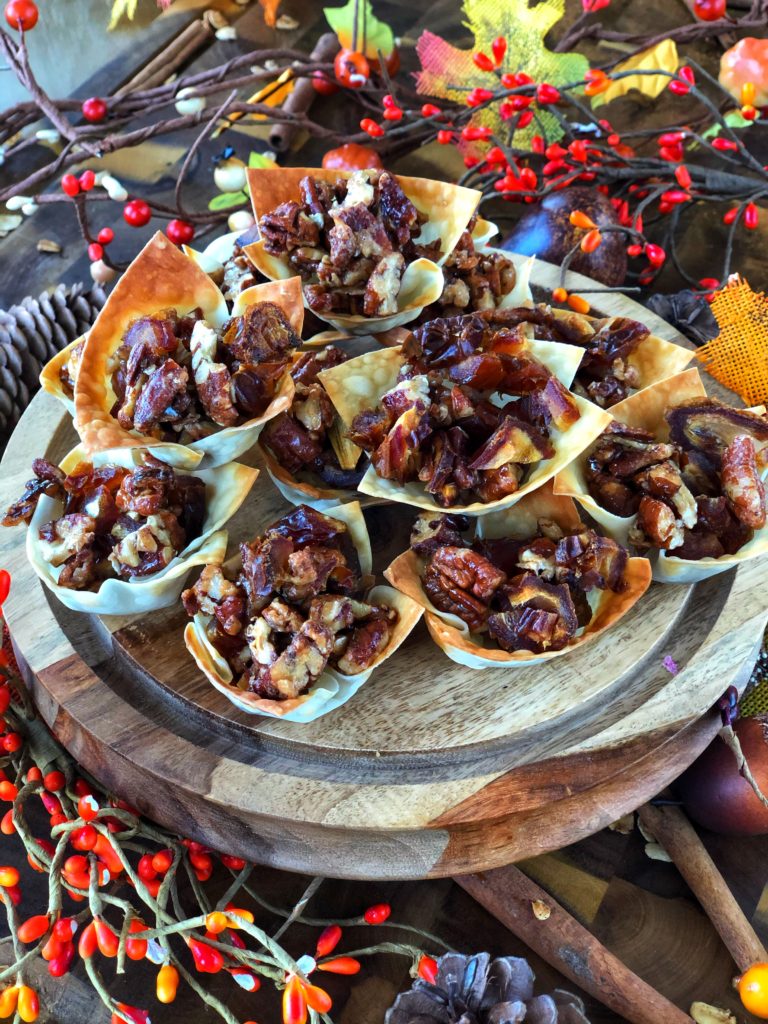 Ingredients:
1 cup chopped pecans

2-3 tbsp maple syrup

8 medjool dates, pitted and chopped

3 Vegan egg roll wrappers cut into 4 squares (makes 12 mini pie crusts)
Instructions:
Preheat oven to 400.
In a bowl mix the pecans and maple syrup together. Heat a nonstick pan over medium high heat and add the pecan mixture.  All the maple syrup to bubble and continuously stir the pecans so they do not burn. Once pecans begin to toast, transfer to a plate and allow to cool. This process takes about 3-5 minutes.
While pecans cool, chop pitted dates into small pieces then mix thoroughly with the pecans.
Take 3 egg roll wrappers and stack them so you can cut them all at once. Using a knife or pizza cutter, cut the wrapper into fourths, making 4 equal sized squares. Place each square into a mini muffin pan to form little pie crusts.  Then fill each little crust with a spoonful of pecan filling.
Spray lightly with oil spray (optional) to help the curst brown, and place in the oven and bake for 8-10 minutes.
Servings:
Makes 12 servings.
For more of my plant-based recipes check out my cookbook: Plantifully Lean Cook Book
Check out this recipe on my Youtube Channel: Easy Thanksgiving Desserts