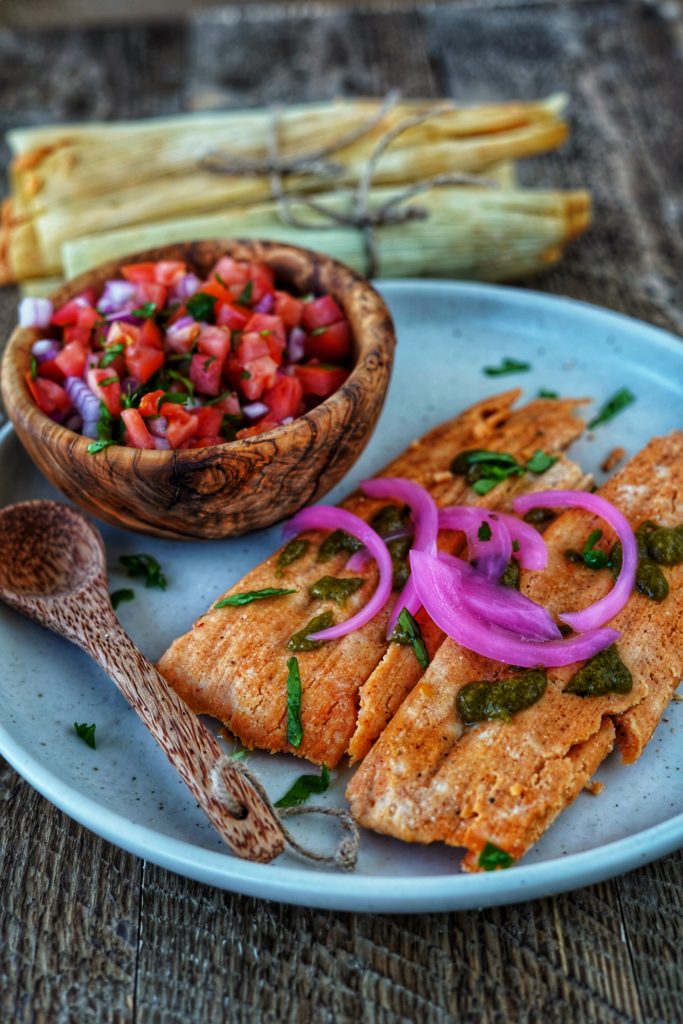 Ingredients:
4 cups corn masa

1 ½ -1 ¾ oil free red enchilada sauce (I find mine at Whole Foods)

20-24 corn husks

Oil free refried beans (canned or homemade)
Toppings:
Hot sauce

Avocado

Pico de gallo
Instructions:
In a bowl place 4 cups corn masa. Slowly mix in the enchilada sauce until you have a moist paste that will hold its shape. 
 With a spoon gently smear the masa paste onto the entire corn husk, about a ¼ inch thick.  If you like thicker tamales then add more. 
 Then add your refried beans on one side and fold the corn husk over and seal all the sides. You can then fold the tails of the corn husk up.  If you have large corn husks then spoon filling down the middle and fold one side to the middle, then the other side over. Seal the ends, and fold the bottom of the corn husk upwards.
Place them inside a steaming basket, inside a large pot with a lid. Steam for 20 minutes. You can also place them in your instant pot (my preferred method) on a steaming basket, with 2 cups of water.  Hit the steam setting for 12 minutes then release the pressure manually and remove the tamales. Top and enjoy!!
*These freeze great!
Servings:
Makes 20-24 servings.