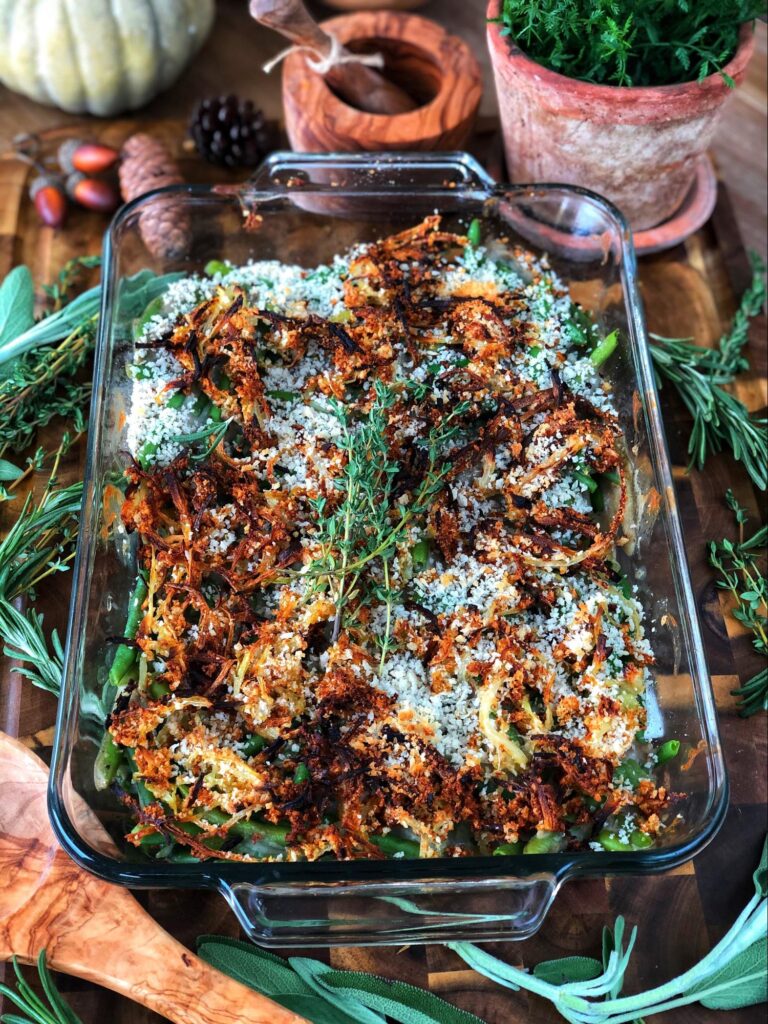 Ingredients:
2 - 12 oz bags of frozen green beans steamed

3-4 cups mushroom gravy (link)

½ tsp salt or to taste

⅛ tsp ground black pepper or to taste
Onion Topping:
1 ½ large onions thinly sliced

1-2 tbsp powdered vegan egg replacer or ground flaxseed

2 tbsp plant milk (like soy or almond milk)

1 cup of panko bread crumbs or gluten free bread crumbs

½ tsp garlic salt or to taste
Instructions:
Preheat the oven to 425. Thinly slice onions and place them in a bowl making sure to separate the slices. Sprinkle with the powdered egg replacer or ground flaxseed and toss to coat.  Then add the plant milk and toss  to coat.  Finally add bread crumbs and toss to coat.  Pour the breaded onions along with all the bread crumbs onto  a parchment lined baking sheet and bake for 20-25 minutes until crispy and brown.  (You may lightly spray the onions with spray oil to get them to brown up nicely.)
While the onions bake, steam your green beans until fork tender (or al dente if you prefer).  Then place green beans in a 9 x 13 pan, and pour 3-4 cups of the mushroom gravy over the beans.  Mix in the gravy and season with more salt and pepper if desired.  Once onions are done baking, spread them on top of the green beans along with all the loose crumbs and place back in the oven for 10 minutes.  
Servings:
Makes 8 Servings.
Check out this recipe on my Youtube Channel: Easy Thanksgiving Sides