1 onion chopped

1 lb mushrooms sliced

2 cups vegetable broth

1 cup plant milk (I like soy milk)

3 tbsp flour

½ tsp dry dill

2 tsp paprika

1 tbsp soy sauce

1 tsp salt or more to taste

Pepper to taste

2 tsp lemon juice

¼ cup parsley chopped
In a pot, sauté onions and mushrooms with a little vegetable broth until soft.  Then add the dill, soy sauce, paprika, and vegetable broth.  Cover and let simmer on low for 10 minutes.
In a separate bowl whisk together the plant milk and flour making sure there are no clumps. Add flour mixture to the onions and mushrooms and whisk it in.  Bring to a boil and as soon as it begins to boil, reduce the heat to low and cover and allow to simmer for another 10 minutes. At the end of 10 minutes turn off the heat and add the salt, pepper, lemon juice, and parsley.
Serve hot with grilled cheese or over some mashed potatoes.  Makes 4 servings
*For Gluten free omit the flour and just add the plant milk.  Then add 3 tbsp cornstarch to ½ cup cold water and mix until smooth. Add to the soup and bring to a boil and boil for 1 minute.  Then reduce the heat to low and cover and simmer for 10 minutes. At the end of 10 minutes turn off the heat and add the salt, pepper, lemon juice, and parsley. Serve hot with grilled cheese or over some mashed potatoes.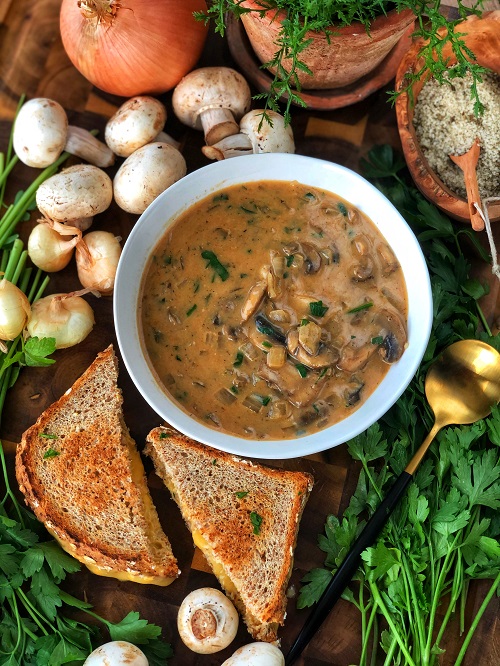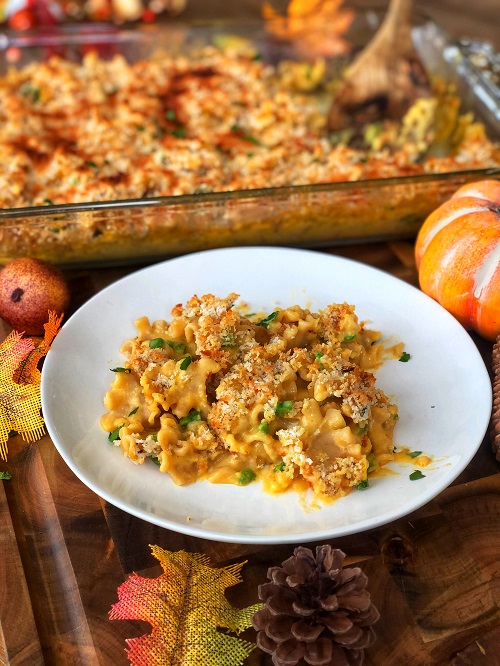 1- 16oz box pasta of your choice

3-4 cups of cheese sauce 

2 jalapeños deseeded and chopped, leave the seeds if you like a really spicy mac n cheese

2 cups panko bread crumbs or gluten free bread crumbs

Garlic salt to taste

Pepper to taste
Preheat the oven to 425. 
Boil pasta according to package directions. While the pasta cooks, deseed and chop jalapenos and set aside.  
When the pasta is done cooking drain and rinse and add to a 9x13 baking dish.  Add the jalapenos to the pasta and the cheese sauce, season with pepper and stir to mix.  Sprinkle bread crumbs over the top and season with garlic salt.  
Place the dish in the oven and bake for 20-30 minutes or until bread crumbs are brown and mac 'n cheese is heated through.
Makes 6-8 servings
The Yummiest "Cheese" Sauce Ever!
3 cups peeled diced potato (if you use Yukon gold you don't have to peel them)
½ cup diced carrots
½ cup raw cashews
4 tbsp nutritional yeast
1 tsp onion powder
2 tsp garlic powder
2 tsp salt
1 ¼ tsp lemon juice
2-3 cups hot water
Boil potatoes and carrots together in a pot until soft, drain off water.  Save the water to add back into the cheese sauce.
Add all ingredients to a high-speed blender, then add 2 cups of the reserved water and blend. Add more of the reserved hot water to thin to desired consistency. Makes about 36 oz
Fat Free Version
Replace the cashews with white beans and cut the amount of water in half, adding more as you blend if you desire a thinner consistency.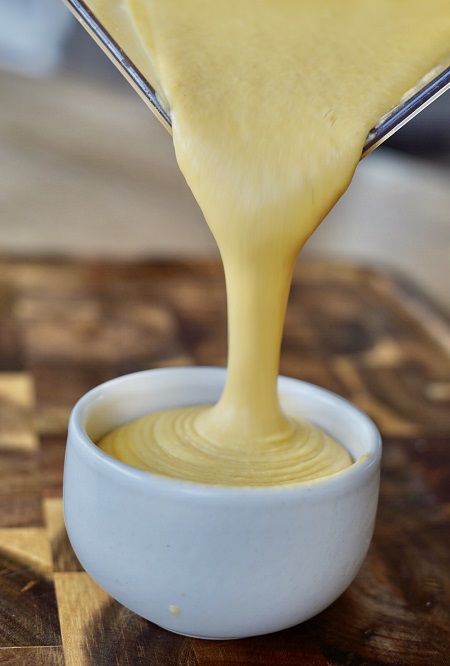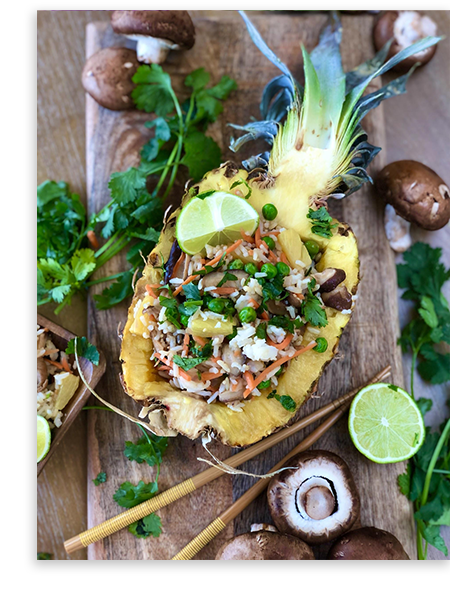 2 cups steamed rice of choice (we love Basmati Rice)

frozen peas and shredded carrot mix

8 oz chopped mushrooms

¼ cup finely diced onion

2 garlic cloves minced

¼ tsp ginger paste or grated ginger

1 cup canned pineapple

chopped green onion

chopped cilantro

lime wedges

coconut aminos teriyaki sauce
Heat pan to medium high heat and add a small amount of water. Sauté the mushrooms and allow them to cook down. Add the onions, garlic, ginger and some teriyaki sauce.  Cook for another minute. Add the peas, carrots and rice…you may add more water or teriyaki to keep it from sticking to the pan. Lastly add the pineapple and stir to heat thoroughly. Serve and top with teriyaki sauce, lime, green onion and cilantro. Enjoy! 
2- 25oz cans chickpeas drained and rinsed

1- 28 oz can tomato puree

½  medium onion 

2 tsp grated ginger or ginger paste (1 tsp ginger powder)

3 garlic cloves

3 tsp Rani Chana Masala 

1 tsp yellow curry

1 tsp ground coriander

¼  tsp mango powder

⅛  tsp cumin seeds

⅛  tsp Hing powder (Asafoetida)

½ - ¾  cup plant milk (I like plain unsweetened soy milk)

¼ cup ground cashews (optional) for a deliciously creamy taste

1 tbsp lime juice 

½ cup chopped cilantro (optional)
In a blender, mix tomato puree, onion, garlic and ginger. Heat pot on medium high    and add cumin seeds, allow them to brown for 1-2 minutes.  Pour blended tomato mixture and the remaining spices into the pot. Allow to cook down for 15 minutes, stirring occasionally. You want to end up with more of a tomato paste than sauce, this allows time for the spices to cook and develop excellent flavor.
After approximately 15 minutes, add the chickpeas, plant milk, cashews if using, and lime, stir to mix. Allow the chickpeas to heat through then turn off heat and mix in chopped cilantro. Serve with steamed rice and garlic naan.  (recipe in bread section)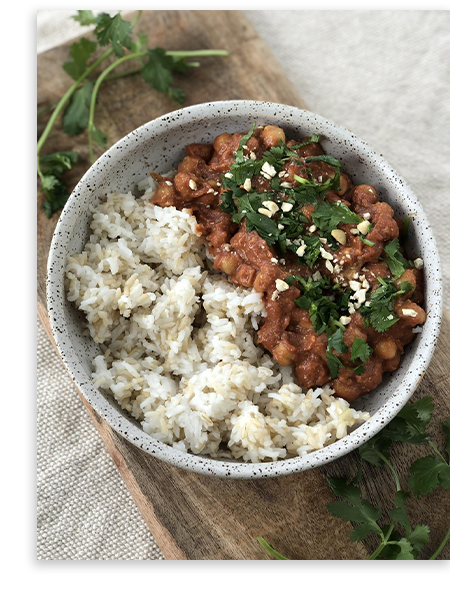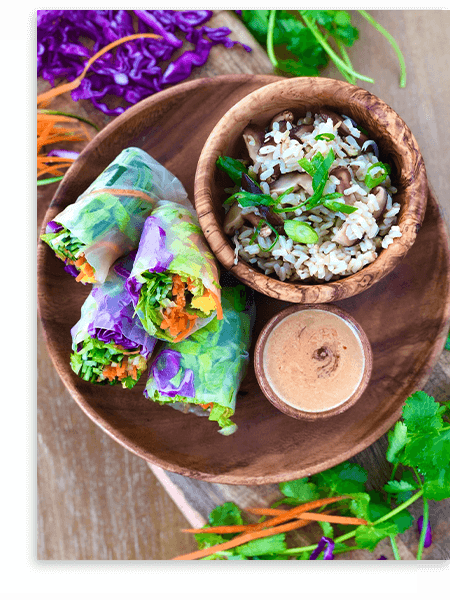 Spring rolls with thai peanut sauce and shiitake rice:
rice paper sheets

lettuce

cucumber julienned

carrot julienned

avocado sliced

mango sliced

sprouts

beet grated or julienned

Thai peanut sauce:

1 cup powdered peanut butter

1-2 tbsp low sodium soy sauce (optional, I leave out because it's too salty)

1 tbsp rice vinegar

1-2 tbsp maple syrup

2 tbsp lime juice

½  tsp coconut extract (optional)    

pinch of ginger, fresh or powdered
Prepare peanut butter according to directions, then mix in the remaining ingredients . Enjoy as a dip for fresh spring rolls, on thai salad, or on zucchini noodles! Makes 4 servings of sauce.
Fill a wide bowl with warm water, place a rice paper sheet in warm water to soften. Once softened, pull out and lay flat on your work surface.  Lay down lettuce leaf first then add the rest of the ingredients. Fold right and left sides in first then roll like a burrito. Enjoy with Thai peanut sauce.
3 cups cooked brown rice

8 oz shiitake mushrooms

1tbsp minced garlic

2 green onions thinly sliced

sambal oelek (chili paste) optional and to taste if you like it spicy

coconut aminos teriyaki sauce or coconut aminos garlic sauce for seasoning. You may also use a low sodium soy sauce as well.

sesame seeds for garnish. (optional)
Water sauté the mushrooms and garlic until mushrooms are tender.  Stir in rice and onions and heat thoroughly. Serve with chili paste, and sauce of choice and garnish with sesame seeds if desired.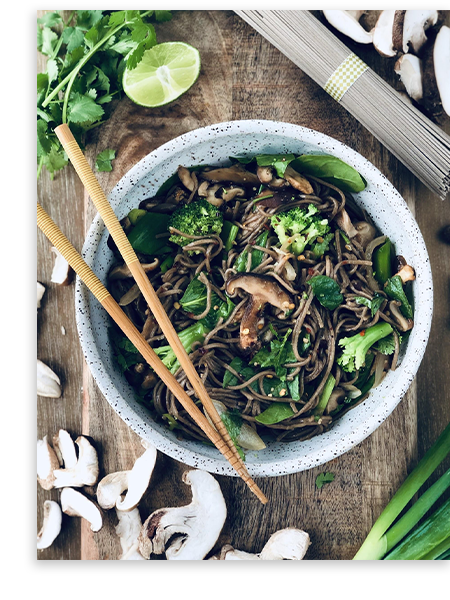 9 oz buckwheat soba noodles or pad thai rice noodles for gluten free (if working on weight loss, try using zucchini noodles)

10 oz shiitake mushrooms 

1 small onion sliced

3-4 garlic cloves minced

3 tsp jar asian chili paste (found in asian aisle of any grocery store)

2 tsp low sodium soy sauce

½  tsp fresh grated ginger or ginger paste

3-4 green onions chopped

1 cup thai basil leaves

1 cup baby spinach 

½  cup chopped cilantro 

2 cups steamed broccoli

Sauce:

1 ½  tbsp low sodium soy sauce 

1 tbsp maple syrup  

1 tbsp water

2 tbsp lime juice

pinch chili flakes (optional)
Boil the noodles according to the directions on the package. In a small bowl mix sauce ingredients and set aside.
Heat a pan to medium high, add 2 tablespoons of water, garlic and chili paste. Sauté a few minutes then add sliced onions and ginger.  Sauté another minute or two. Add mushrooms and soy sauce, cook until mushrooms begin to soften, about 3  minutes. Reduce heat to medium and add the broccoli, basil, spinach and green onions.  Pour sauce over vegetables to coat. Turn off heat and add in cilantro . Makes 4-6 servings.
If using zucchini noodles, add them to the pan after the mushrooms are done and cook only until the noodles begin to slightly soften. Add the rest of the ingredients being careful not to overcook the zucchini.
Subscribe to my Newsletter