Savory Stuffed Acorn Squash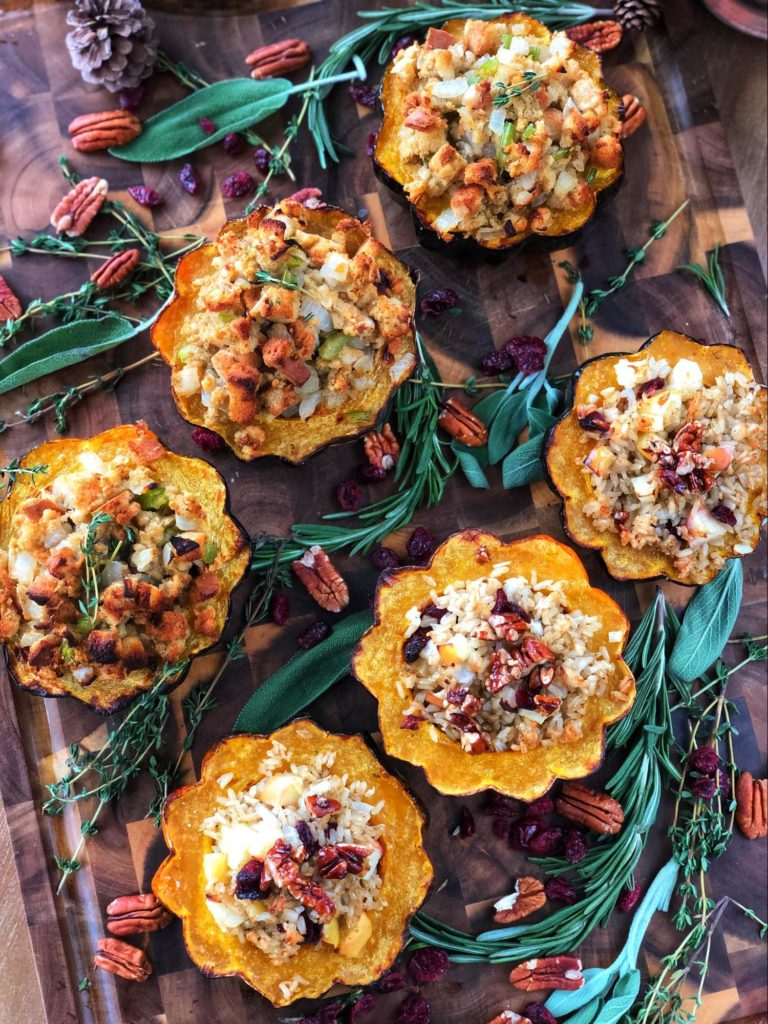 Ingredients:
5-6 cups plain stuffing cubes

1 onion diced

2 celery stalks finely diced

1-2 tsp salt or to taste

2 tsp poultry seasoning

1 ½ - 2 cups vegetable broth (or more)

2 acorn squashes

Garlic salt to taste
Instructions:
Preheat oven to 425. Cut the tops and bottoms of the acorn squash so that they sit flat. Then slice in half and scoop the seeds out.  Season the halves with garlic salt and face them down on a parchment lined baking sheet (flesh side down) and roast for 20-30 minutes until knife tender.  
For the stuffing, saute the onion and celery in a pan over medium high heat.  Add a little vegetable broth to help cook them down.  In a bowl add the stuffing cubes and the sauteed onion/celery. Add the water, 1 cup at a time until you get a wet stuffing, stir to mix.  Then add the seasonings and adjust to taste. 
 When the acorn squash is done, remove from the oven and flip them over.  Stuff each one with stuffing and then place back in the oven for 10 minutes to brown the stuffing.  Makes 4 halves.
Servings:
Makes 4 servings.
For more of my plant-based recipes check out my cookbook: Plantifully Lean Cook Book
Check out this recipe on my Youtube Channel: Easy Thanksgiving Mains