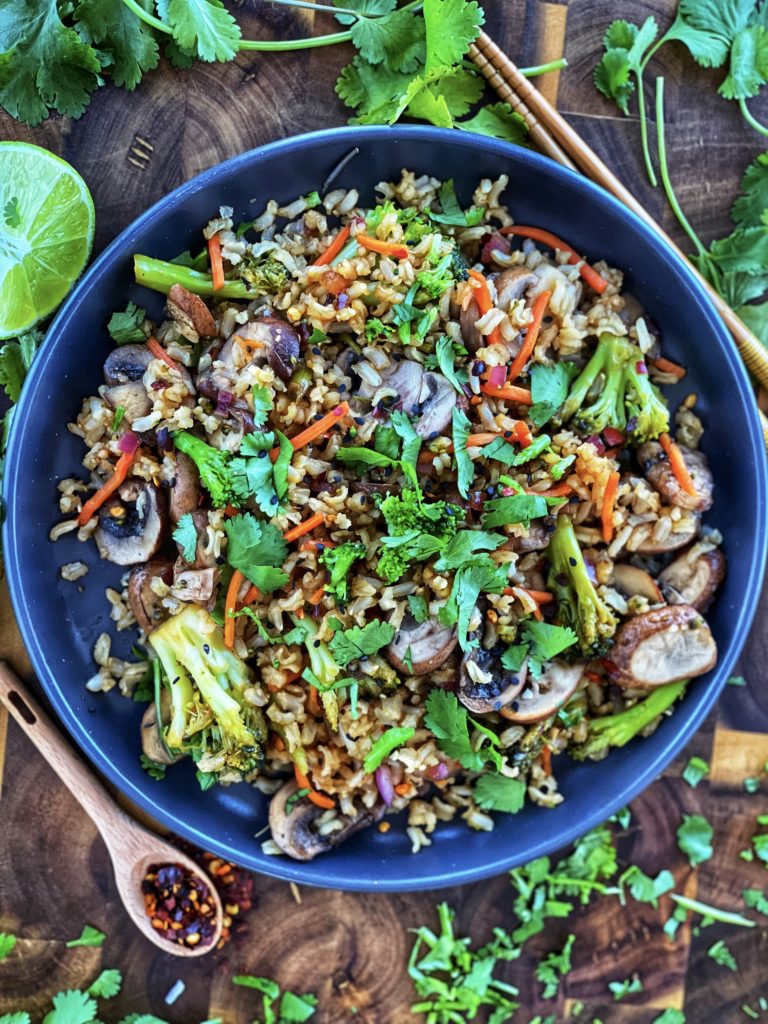 Ingredients:
2 cups cooked rice

5 oz shiitake mushrooms or mushrooms of your choice

1-2 cups steamed broccoli, chopped

½ cup shredded carrot

¼ cup diced red onion

1 tsp minced garlic
Stir Fry Sauce:
¼ cup low sodium soy sauce(gluten free) or coconut aminos

¼ cup seasoned rice vinegar or plain rice vinegar

2-3 tbsp maple syrup or to taste

Pinch of chili flakes (optional)
Garnish:
Cilantro

Lime

Black sesame seeds
Instructions:
Heat a non stick pan over medium high heat, add mushrooms, onion, and garlic to the pan and 2-3 tbsp of water.  Allow the mushroom mix to cook down until the onions are transparent and beginning to brown.
In a small bowl mix the soy sauce, vinegar, maple syrup, and chili flakes and mix then set aside.
Once the mushroom mix is done cooking, add the carrots, broccoli and stir fry sauce and give the mixture a stir.  Then add the cooked brown rice, and stir until the sauce is absorbed, about 3 minutes.  Then serve and garnish with lime, cilantro, black sesame seeds, and some extra chili flakes if you want.
Servings:
Makes 2 servings.